 Over the years of collage art making, I've explored many surfaces that collage papers can be adhered to. The surface of brown Kraft bags or gift bags happened to be an inspiration of a non profit Food Pantry. All artists were very giving of their abilities and created some wonderful Art on brown Kraft bag, see mine below. 
The whole Idea was very intriguing and planted a seed of ideas and questions on how to use a Brown Kraft Bag for art. Which for an artist sets up a problem to be solved and If you're anything like me you like to find ways to make things work or create new ones. 
The process of creating and using Image transfers will be shown with this course along with many other ways to work with your collage papers and mixed media. I prefer to use the Golden's Gloss medium to build up layers on a laser copy of an image.  The layers build the skin that will then be transfer on top of your other collage papers. (no inkjet copies please, they bleed)
You can use many kinds of paper as long as you can coat it with Gloss Medium and the surface doesn't bleed color. Make sure you coat on both sides allowing each side dry first. I like to lay my papers out on a dollar store plastic table cloth, it doesn't stick.  
If your interest in making your own collage papers I have the class for you. In this teaching platform there is a classed called Creating a Palette for Collage.
The first part of this course will share how to create with a clean edge which has been taped off with a delicate painters tape, or a white tape #3051, low tack paper tape by Uline. Your supply list will have this listed for you. Just giving you a heads up before we get that far. 
Introduction to Brown Bag Collage Art
There are two approaches I have to share with you in this class.
About some of the Supplies
Here are a few of the supplies you can use. If you don't have a Heat Seal Iron, a.k.a. Tack Iron you can use your house iron on a cotton setting. No steam with the safety release sheet between the coated papers and the iron. Parchment paper works great as your safety release paper. I use Golden Brand of Gloss and Glazing mediums because it works the best for the Image transfer process. 
If interested in purchasing a tack iron see the Link here at Horizon Hobby.  Please note because of shipping situation in our world they are on back order. You can use a house iron as picture above or if this iron is available, Encaustic Art Iron. 
I get my Gloss and Glazing Medium at Blick Art Materials 
#3051 Low tack Painters tape, by Uline.com  or you can use a hardware store painters tape that is Delicate only. I believe there is a Frog tape out there like that too.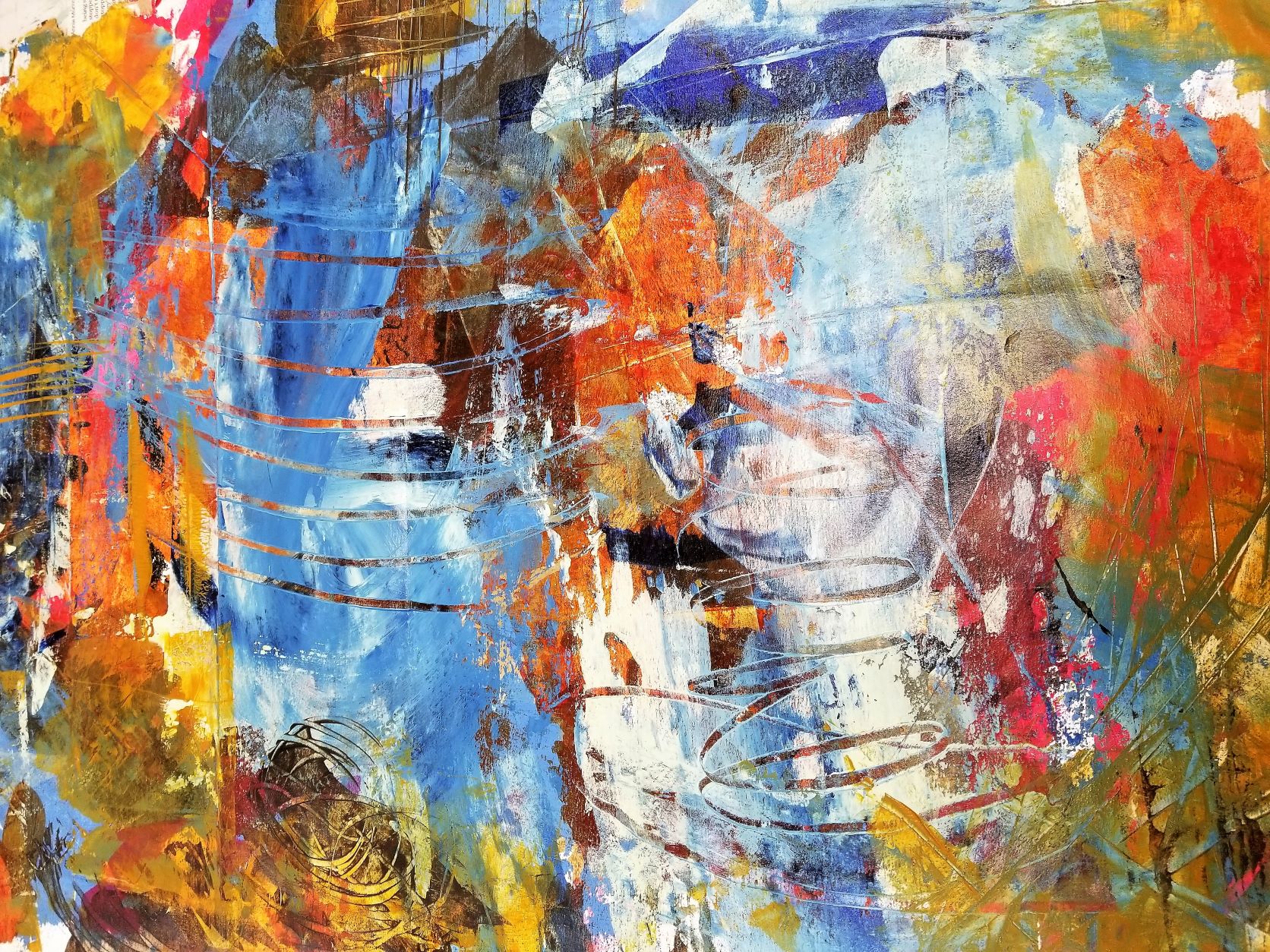 Create or find your favorite papers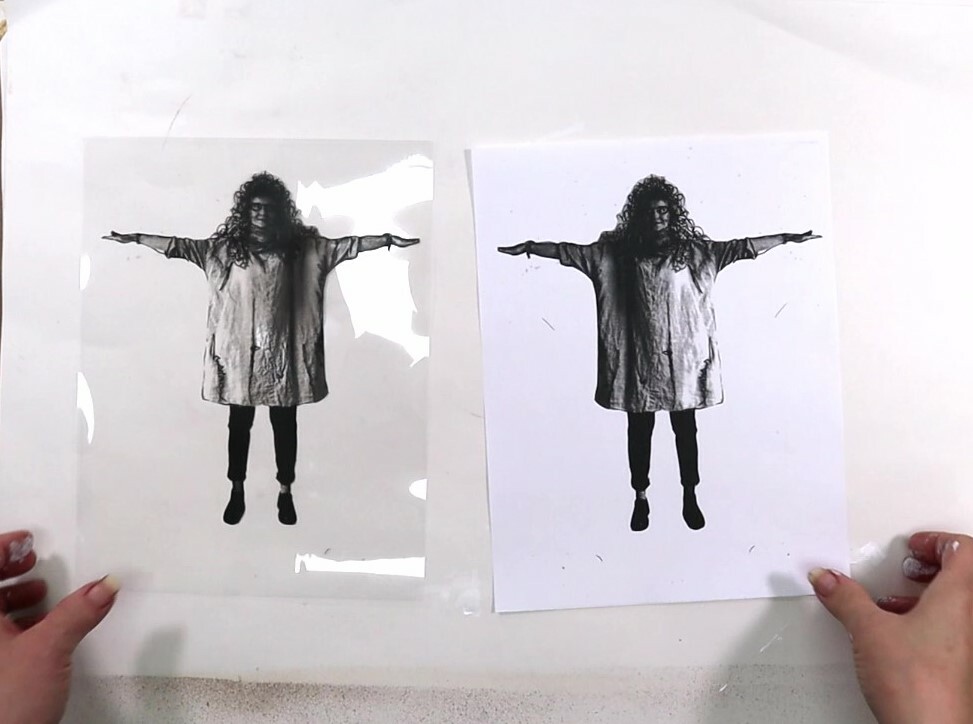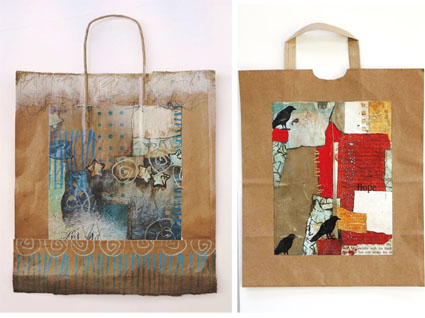 Unframed Art on a Brown Paper Bag
Brown Bag Collage Art,
full of creative fun and artistic techniques
"Choices,
Oh So Many Choices"
Deciding what you want to collage on the surface will be inspired by your papers, images and words, no reference but your own playful spirit. I will share my process and how I lay out my papers. Plus using the mixed media of water soluble wax crayons and or pencils. It's freeing and also challenging but any good artist loves a challenge...Oh, I think I said that already. 
Most of my work starts with a paper I really like and then I look for a palette to work with. Some days I'm bold and bright other days I'm dark and grungy. "Just go with the flow," is what I say and make choices along the way. Ask the question, do I like this? then keep it. Or if this isn't work take it off and try something else.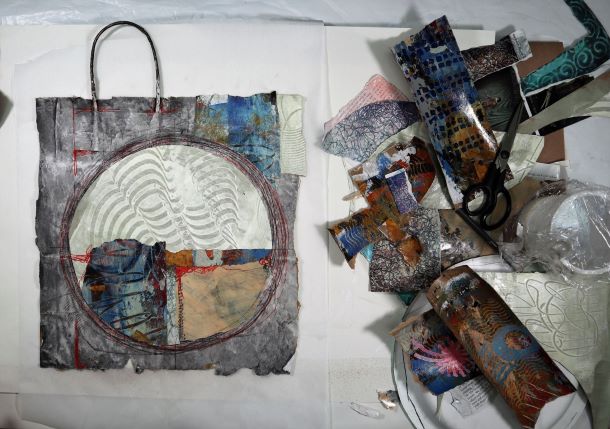 Frequently Asked Questions:
How do you get Help with Login In? If you having trouble getting into Lonecrow Studio, after you have already signed up and paid, please know your information is not stored with the instructor. Try clearing you cookies, try again then please check the Help Link Save your login information.
When does the course begin and end?
The course begins as soon as your transaction is complete. After you sign up you have access to all the course information and can work at your own pace.
How long do I have access to this course?
You have access to this course as long as the instructor is able to keep teaching and the school is open, unless otherwise notified on the individual courses offered. Don't let your course expire on the Shelf. Like an old can of beans in the pantry....something I do often in my house. 
When does the course begin and end?
The course begins as soon as your transaction is complete. After you sign up you have access to all the course information and can work at your own pace.
Videos-Do I need high speed internet for this course?
It is suggested to view videos with high-speed internet.
Is it that important to have all the supplies on the list?
Work with what you have though there are some techniques in advance courses that work best with set materials. Work with what you have around you first before going out and spend big dollars on supplies.
Is there an online community connected with this course?
Currently there is a Facebook Community, Lonecrow Collage Studio. It is where everyone shares that has take my classes.
What is the Refund Policy?
Once you are enrolled in the course, I am unable to offer a refund. I encourage you to contact me if you have any questions prior to signing up.