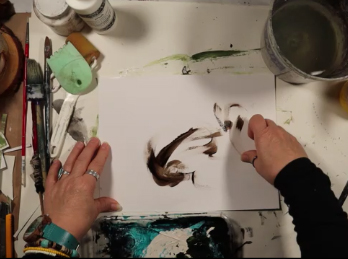 Start with Paint on your Fingers
Using your thumbs and fingers to spread paint around can be a new experience or could be along awaited one.
Following a nudge from deep inside helps connect us all to our Intuitive nature.



I invite you to watch this video about the process of the


Intuitive Journey, Small Inspirations
What's included in this Class?
Supply handout
Feather tool hand out
16 videos
Supply video
Painting Session
Cutting Small Compositions
Creating New Compositions
Making a Pocket Folder
Closure of Folder

Pocket Folder Presentations
Through the class you will create beginning painting then cut it into small square composition starting pieces. The idea then is to challenge yourself to use the same colors of paints add collage, stamping, mark making, stenciling and a bit of hand stitching too if you like. When finished you will create a pocket folder with a closure to house and present your Small Inspirations. Great Practice on may aspect of design, composition and trusting in your own judgement and intuition.


Intuitive Journey, Small Inspirations
Check out a few other Classes available in Lonecrow Studio
There is a wide selection of beginning to
advanced classes set up and a few freebie's too.
Take a look at these or view all the classes available on the button below


Frequently Asked Questions:
How do you get Help with Login In? If you having trouble getting into Lonecrow Studio, after you have already signed up and paid, please know your information is not stored with the instructor. Try clearing you cookies, try again then please check the Help Link Save your login information.
When does the course begin and end?
The course begins as soon as your transaction is complete. After you sign up you have access to all the course information and can work at your own pace.
How long do I have access to this course?
You have access to this course as long as the instructor is able to keep teaching and the school is open, unless otherwise notified on the individual courses offered. Don't let your course expire on the Shelf. Like an old can of beans in the pantry....something I do often in my house.



What level of ability is this course for?
This course is for anyone willing to learn more about design and composition. Be it for a beginner or more advance it works well for both
Videos-Do I need high speed internet for this course?
It is suggested to view videos with high-speed internet.
Is it that important to have all the supplies on the list?
Work with what you have though there are some techniques in advance courses that work best with set materials. Work with what you have around you first before going out and spend big dollars on supplies. I do prefer Golden's Gloss Medium over other brands
Is there an online community connected with this course?
Currently there is a Facebook Community. It's set up as Private community.
It is where everyone shares that have taken any of my classes.
What is the Refund Policy?
Once you are enrolled in the course, I am unable to offer a refund. You are able to receive the pdf's and video to watch. I encourage you to contact me if you have any questions prior to signing up.